My two children, Elin 19 och Åsa 17. I'm very proud of my daughters.

Mats is my man and best friend.
This picture was made by me when we just had met, 3,5 years ago.
Together we produse pictures and art.
http://www.anemona.se
http://www.tjuga.se
http://www.billdoc.se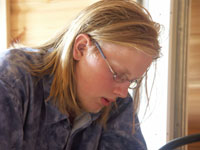 Mats has got two sons, Tobias och Joel. Tobias lives and works i San Diago USA. We do not se him very often. Joel lives with his mother in Umeå but vist us often.
Our dog, Bubba.
Alice